"This full-of-dream country in North America, which is bordered on the west by the Pacific Ocean and on the east by the Atlantic Ocean, is known as the United States of America. The third most populous country in the world, then followed by our country, Indonesia," as my social studies teacher taught me in the 5th grade. Eleven years I have studied at school, the theory taught by my teachers has never broken my expectations of how marvelous Uncle Sam's country is. America has always been a country I've wanted to visit since I was little. Ten years old me said to her mother that, "I will go to America when I have money." Then, time passed, but I would never let my biggest childhood dream pass without me living that dream. Sitting on a wooden chair in my middle school, I opened my social studies book and my dream woke me up, then changed my mind to, "I will go to America if I have a dream and I will manifest that dream". I always called myself a dreamer, because it is just satisfying to wander and sail your dream that you even still visualize whether it will come true or not. But I know that a dream without something means nothing, so I complete that word until it becomes, "I'm a dreamer and a hard worker." Having a dream just always gives me a boost and ambition to myself.
The way I proved myself as a hard worker is by never letting the opportunity that comes to me just pass by. I dared myself to apply for the student exchange program to the United States with the fully-funded scholarship. I was trying so hard to manage my expectations well. I was ready to welcome my failure and learn from it again. But then after roughly one year of the selection process, a letter came and said that I was accepted into this fully-funded scholarship program from the U.S Department of State. I didn't even know how to react to myself and how to congratulate myself, because it always feels unreal for me to be living my biggest dream. But then here I am, trying to use this opportunity as well as I can, trying to maximize every chance that I have here, trying to enjoy every moment I have, and trying to learn as much as I can. You will appreciate something more when you know how hard it is to get to the point where you think is impossible.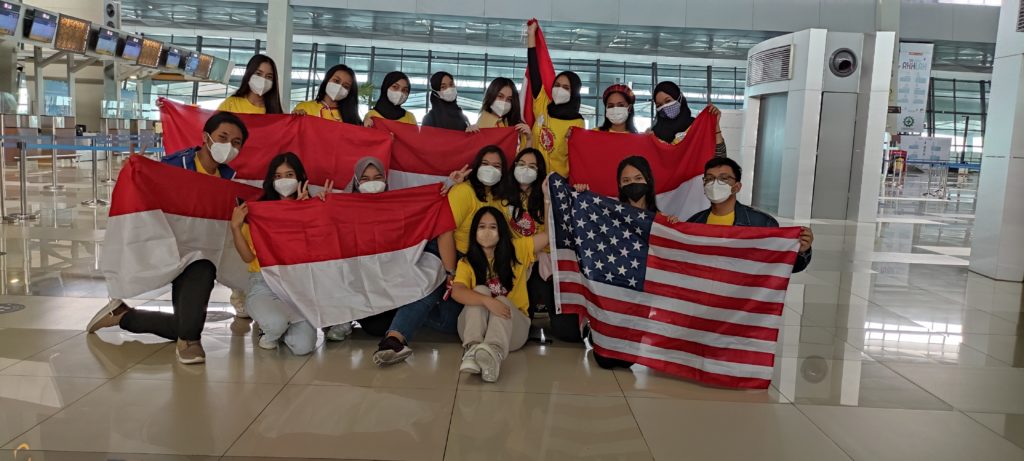 "Ladies and gentlemen, welcome to Washington, D.C. The local time is 10.30 a.m. For your safety and the safety of those around you, please remain seated with your seat belt fastened and keep the aisle(s) clear until we are parked at the gate," as the flight attendants welcomed us in Washington, D.C. I'm here, landing in my dream, as my brain still double checks is it all real or if I'm just totally dreaming in my bed. Out of the plane, my friends and I were greeted by a 50 stars flag that stretched out in front of the immigration counter line, then I said to myself "It's real, congratulations, you've reached this point."
Then, the journey begins! I have had a perspective of how Americans are more individualistic (in a good way) than my country which is more collectivistic. At first, I was kinda scared about how I can socialize with new people, how I can make friends, and how I can have group work in the class if their culture tends to raise them as more individualistic. But that's just what I think, the reality is people that I met here are very welcoming to me, they are really nice and humble, and also love to work together with other people. Another thought was, I think Americans are drinking soda and eating pizza, hot dogs, hamburger, french fries, steak, and other kinds of fast food everyday, but I was wrong, American food is very diverse, the food comes from America itself, other cultures, and even from the combination of other countries. Another thing, I was thinking was that all places in the United States will look like New York, California, Chicago, but I was wrong, again. America is not only about its luxurious big cities, but America also has a myriad of natural places from its extraordinary natural charm. I also have never wondered about a different kind of language spoken in the United States, I thought it was just English. The reality is America is a melting pot of other cultures and nations, which makes it so mixed. I thought the people had a different sense of humor than the people in my country, but for the umpteenth time, I was wrong. Since then, I learned that it's not about Americans or Indonesians, but it just depends on what kind of person they are. In addition, I never thought that the weather would be this cold. I never thought that I would meet such wonderful teachers, host family, friends, and all the people that I will never forget for the rest of my life.
This exchange year is the best year that I've ever had in my life. I'm so grateful to be living my American dream at the age of 16, because I feel that life taught me how to survive and how to see the world from a wider perspective in this young age. Everything happened beyond or sometimes less than my expectations, but I came here to learn, learn about the cultural diversity, and learn to bridge the understanding between us. I will take the knowledge and experience that I got here and share it with the people in Indonesia. My dream won't stop just until here, I will make another dream and try to make it come true, just like what you would do!