Most students are familiar with the many sports at Anacortes High School, but there is less awareness of the academic teams. One of these often overlooked clubs is our AHS Math Team, which competes against local high schools and schools nationwide. This year's members are Lili Adkins, Jefferson Butler, Katherine Butler, Harry Lee, Ethan Quinto, Graham Quinto, and Gladys Wang. Mr. Holtgeerts is the team's administrator, he hosts meetings and coordinates events.  
So, what does the Math Team do? Like any competing team, they have to practice.  Practice is held every second and fourth Thursday of the month in Mr. Holtgeerts's room after school. During these practices, teammates work together to understand and solve challenging problems. In practicing these questions, the team prepares for success in the monthly off-campus competitions, as well as in online matches.  
The off-campus events consist of an individual and team test. Individual tests are eight questions long: two questions from the Algebra 1 curriculum, two from Geometry, two from Algebra 2, and two miscellaneous. All answers are multiple choice, but getting the answer wrong can cost the team a point, so guessing has a penalty. The team tests are taken in groups of two or three, and the questions are significantly more difficult than those on the singular tests.  
In a recent competition, the team traveled to Cascade High School in Everett, where they competed against seven other schools.  Gladys Wang placed seventh in the individual portion.  She and two AHS teammates, Harry Lee and Lili Adkins, received sixth place in the team portion.  The fifth place team beat them by only one point, which consisted of Ethan Quinto and two members from Kamiak High School.  When asked about her opinion of the off-campus competitions, Gladys Wang says, "I love traveling tests, considering there is always food and I enjoy teamwork time."
In addition to traveling competitions, the team uses an online program called AreteLabs to compete with schools across the country. Unlike competitions with local high schools, the online test only has seven questions. Contestants are given half an hour to complete as many as possible. Each student's score is added up to a team total, which is compared between schools. Recently, the team won an online competition against a school in Delaware.  
Not all students find joy in solving complex equations or in calculating surface area. For some, math may seem tedious, purposeless, or just plain hard. Although some problems may not be applicable to everyday life, the AHS Math Team is prepared for when they are.  Gladys Wang states, "I recommend joining the Math Team!"  So, if you are interested, talk with Mr. Holtgeerts in Room 124.  The team's next competition is on December 13th at Burlington-Edison High School, so be sure to wish members good luck!
Can you solve a Math Team problem?
Question: For positive integers a and b, if ab = 1296, determine the minimum possible sum of a and b.  Check below to see if your answer is correct!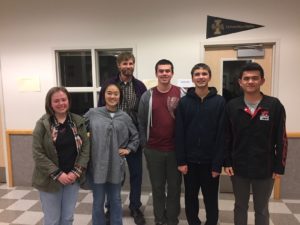 Answer: 72