Tigerhawk Basketball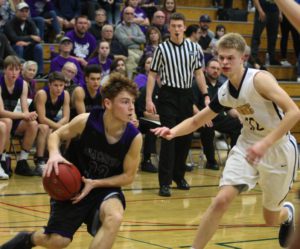 Boys take down Burlington while girls fall short.
ANACORTES, WA; One of the northwest's best high school rivalries came to a close last Friday night, as the annual Anacortes-Burlington showdown came with an amazing win, yet a sad loss.
"We're all pretty hyped," said Charlie Rasco, A Burlington sophomore. "I know the girls are good this season. The guys say we're gonna win too. It'll be interesting for sure."
The Anacortes girls fought hard to try and secure the first win of the night, yet the Tigers took the game with a final score of 64 to 43. The game started off well with the score at the half being 26 to 28, Burlington.  Anacortes had many good steals and drives down court and were holding their own.
However, after a close first half, the Tigers stepped up. Anacortes' weakness was its high foul rate and too many missed passes. "Our defense right now isn't where we need to be. We definitely gave Burlington easy looks and easy baskets," Seahawks coach Ken Welk said.  Senior Erin Huffstodt led the Seahawks scoring with 12 points
On the boys' side, the Seahawks continued their three-win streak. "We played a great game," said Jr. Cort Senff, "Our defense really come out in tune, particularly starting out the game. We threw in some early traps just to keep them from getting comfortable."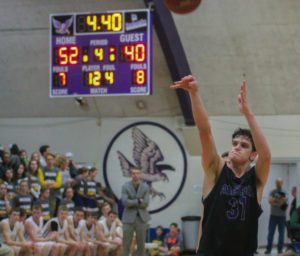 From the beginning the boys team played a great game. At halftime, the Seahawks led  32 to 18.  Anacortes never let the boys get within 10 points . Senior Evan Rodriguez scored 16 points. SeniorTyler Blouin had 15 points and senior Tristen Lowry scored a total of 13 points and had 6 assists. Senior Jacob South ended the game with 10 points and 8 rebounds. "The team is really doing a good job sticking to and executing the game plan" remarked Senff.
Overall, Tigerhawk was a success. The Seahawks saw a fantastic performance from AHS Cheer, a strong performance from the girls team, a win for the boys, and the Tigerhawk trophy.