Beneath a towering sand bluff, waves lap and leave their footprints on the pebble beach at Kelly's Point. To the south is Anacortes, and above is a belt of undeveloped coastal forest.
Kelly's Point and Yellow Bluff border the southwest corner of Guemes Island, providing a tranquil place for exploration as well as wildlife habitat and support for the island ecosystem. The property is classified by the Washington State Department of Ecology as "feeder bluff exceptional," and it's now on the market.
Private purchase could mean the closing of the beach to the public, development, and logging. Hampering the natural erosion of the feeder bluff is also a risk of development. According to the Department of Ecology, attempting to reinforce the bluff so it can be built on "impairs the bluff's important role as a source of beach sediment," which "influence[s] the formation of spawning habitat… and maintenance of riparian forest and other coastal habitats."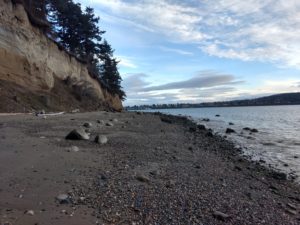 Iconic cliffs and pristine forest views clearly aren't the only reasons to protect this twenty-seven acre property with over half a mile of marine shoreline. The sand and gravel from the feeder bluff's essential erosion sustains island beaches and eelgrass meadows, contributing to the preservation of other important wildlife habitats. Additionally, it's a beautiful place for the community to experience a breathtaking beach.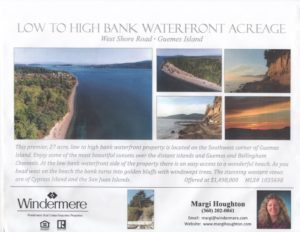 Skagit Land Trust is working to raise funds to preserve and protect this remarkable community landmark. Endeavoring to raise around two million dollars to purchase the property, the Trust has secured an agreement with the current Kelly's Point owners with a deadline of January 28th. Federal grants and community support have so far covered ninety percent of the cost.
Molly Doran, the executive director of the Skagit Land Trust, explains the Trust's mission for Kelly's Point: "We want to keep it just the way it is. It is such a beautiful place and has ecological qualities that are increasingly rare in Puget Sound."
Community members agree. Mark and Kelly Linnemann are Guemes residents engaged in protecting the bluff. "I think it would be a huge loss if this beach and bluff is not protected, not just for islanders, but for visitors," says Kelly Linnemann. Mark Linnemann, a Land Trust board member, adds that "this would not be the same island without having access to see the natural processes that occur on this beach." Phil Fenner, who's a member of the local committee helping to raise funds for the point's purchase, says "it's a VERY wild beach!"
Contributions toward saving Kelly's Point and Yellow Bluff can be made at the Skagit Land Trust website (http://www.skagitlandtrust.org/). A challenge grant is currently matching community donations one to one.
Let's hope that many more generations of people and wildlife will be able to see the sunset light up the ice age-old cliffs of Yellow Bluff with a golden glow, and to explore this "VERY wild beach!"   
Sources:
http://www.skagitlandtrust.org/news.aspx?postid=6318
https://ecology.wa.gov/Research-Data/Monitoring-assessment/Coastal-monitoring-assessment/Projects/Puget-Sound-feeder-bluff
http://sjpt.org/saving-kellys-point/
https://myguemes.org/wp-content/uploads/2017/12/Skagit-Land-Trust-Kellys-Point-Update-12.18.17.pdf