The Definitive Ranking of French Fries in Anacortes
Written by Maren Theriot
The french fry quality can make or break a meal. I asked many people what their favorite fries in town are and answers were scattered across the board. To settle the debate, I came up with an undeniable, completely real, and very scientific system for ranking fries. I picked five of the places that people named as the best. I then ranked them on a five-point scale. I had a friend help me and then averaged our answers to reduce bias. So, without further ado, here are the best French fries in Anacortes.
Adrift (10/25)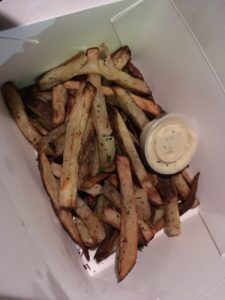 I was surprised that Adrift came in so low on the list. We agreed that while the flavor was unique and actually pretty good, the fries weren't really fries. They were more like breakfast potatoes. All of the other fries on this list had a nice, fresh-out-the-fryer taste, but I'm not sure that Adrift even has a fryer. We also couldn't get a table at the restaurant, so we took the fries to go. The fries were lukewarm and overall, it was not the best experience.
Crispiness: 0
Freshness: 2.25
Flavor: 3.5
Quantity: 2
Price: 2.25
The Bowling Alley (17.75/25)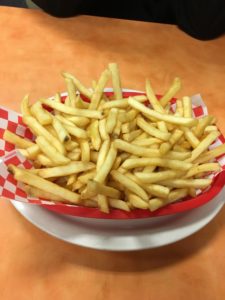 The bowling alley fries impressed me. I thought that they would be last on the list, but they had a classic, diner feel to them. The flavor was good, although I could could really taste the oil. The got a lot of fries and they were piping hot. The service was also very fast so that was a bonus! The only reason it did not get a higher overall score was because it had the highest price. The fries were good, but not eight dollars good.
Crispiness: 4
Freshness: 5
Flavor: 3.5
Quantity: 4
Price: 1
Vagabond (18.25/25)
Vagabond's fries tasted homemade. They were hot, salty, and impressively delicious. The flavor of the fries was like something my grandma makes, and they gave us a huge basket full. However, they were inconsistently crispy, with some of them being almost like chips, and some really soft. They were also the greasiest out of the bunch. I can definitely say that they were unique to the restaurant, but it is the kind of food you need to be in the mood for.
Crispiness: 2
Freshness: 5
Flavor: 4
Quantity: 4.5
Price: 3
The Brown Lantern (19.5/25)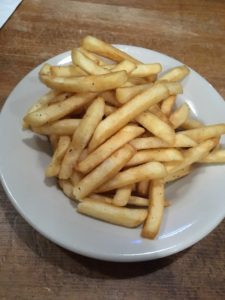 The Brown's fries were delicious. They had a good amount of salt and pepper, and there was a smoky flavor that we couldn't quite place. We actually had to wait a minute to take the first bite because the fries were so hot. They are a perfect tavern food and they matched the atmosphere of the restaurant really well. I was also really happy about the service. We said that we wanted fries and our server confirmed our order with, "Just a big ol' plate of fries?" and we actually had to decline and get a smaller plate. The moment we finished the first plate, he came back and asked if we wanted more, which we also had to decline. I have nothing bad that I can say about the fries or the restaurant.
Crispiness: 3.5
Freshness: 5
Flavor: 3.75
Quantity: 3.5
Price: 3.5
Rockfish Grill & Anacortes Brewery (21.75/25)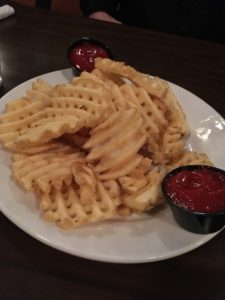 I almost wish that we would've eaten here last because no other fries were as good. Since they make waffle fries, I was a little hesitant to include them, but they were similar enough to a classic fry that I eventually conceded. They were by far my favorite. They had so much surface area to bite into that they were insanely crispy. They had the perfect amount of salt and came straight from the fryer to our table. I was also shocked by the price. Even though we agreed that they were the best fries, they were also the cheapest on the list. I could eat nothing but fries from Rockfish forever and I'd be happy.
Crispiness: 4
Freshness: 5
Flavor: 4.75
Quantity: 4
Price: 5