On March 14, at 9:50 a.m., in the wake of yet another national tragedy, 250 students from Anacortes High School participated in a nationwide school walkout honoring the victims of the recent school shooting at Stoneman Douglas High School in Parkland, Florida and protesting against gun violence. AHS students, alongside members of the Anacortes community, gathered at the War Memorial Plaza in silence for 17 minutes, a minute for each life lost in this recent tragedy. The walkout was organized by the AHS Student Union, who made posters of each victim including a photo and a fact about their life. Julie Wenzel, a mom and member of the activist group Moms Demand Action, stated, "What was beautiful about today was that they [the student union] gave people a place and a time to remember collectively the recent tragedy at Stoneman Douglas. There is something special about the community coming together and grieving." (Wenzel)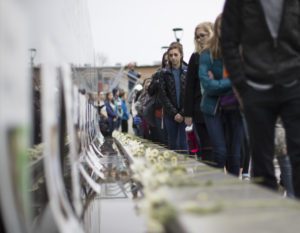 Although it was a local walkout, Anacortes students were a part of something much bigger than themselves. The walkout originated with EMPOWER, the youth branch of the Women's March. They hope to raise awareness about issues of school safety and the impact of gun violence. Through social media, the Never Again movement was born. Never Again is an American student-led organization that advocates for tighter regulation of gun laws. Formed in the aftermath of the Stoneman Douglas High School shooting, #neveragain became a hashtag on Twitter and other platforms alike, connecting students from all over the country with the same beliefs. This message connected with young people across the nation affected by the recent shooting. Students and other supporters of the movement declared 'enough is enough,' and turned their grief into activism.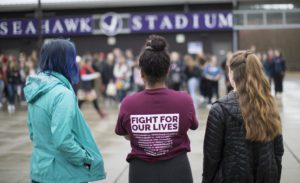 The need for change not only stems from empathy but also from fear. Many students are scared that a tragedy of this caliber could happen in Anacortes. Emma Blanchette, an AHS senior, said, "I see these kids and think, what if something like this happened here. It is terrifying to have a space that is meant to be for us, be so threatening" (Blanchette). AHS senior Elizabeth Braatz shared, "I always say I love you to my parents, because now I don't know if I will come back" (Braatz). Amelia Rurey, also a student at AHS, believes schools are turning into war zones, "Not only am I student, but I have a mother who is a teacher, and other family members that I want to be safe" (Rurey). Blanchette, Braatz, and Rurey are all members of the student union and are actively planning a protest against gun violence and regulation for April 20th, 2018.
April 20th is the anniversary of the Columbine school shooting, which happened on April 20th, 1999 in Colorado. The protest is to honor those lost in the Columbine shooting. The goal is also to make their voices heard. This event is scheduled for 4:00pm at the Depot (location subject to change). Rurey said of the event, "The march will be more political than the school walkout, because we want to get more community members involved and show that as students, we are concerned about our safety" (Rurey). There will be members from the student union and community members speaking as well. Students across the nation aren't just satisfied with one walkout or protest. They will continue to fight for their safety. They will fight for stricter laws on gun control. They will fight until change is made.
 Photos by Andrew Aggergaard