Homecoming week blew by in a blast of color, music, and spirit. The festivities were fun and although Anacortes High School lost our homecoming football game, our spirit survived, positive and undiminished. The homecoming dance, held on September 29th, ended the week with a bang. The week leading up to the red carpet night, filled with competitions for points between classes, determined the victor of homecoming. The class with the most cumulative points on Friday night earned the title of winner. Although the main theme of homecoming was genres, each grade choose one specific genre that they would focus on (12th grade: Musicals, 11th: Romance, 10th: Action, and 9th: Westerns).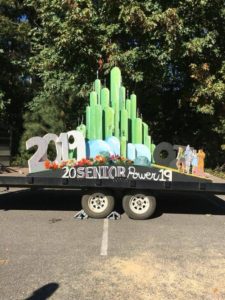 Throughout the week, classes demonstrated their school spirit. A canned-food drive kicked off the competitions. The class to bring in the most canned food would win. Food collected was given to the Anacortes Salvation Army Food Bank. A mural painting competition followed the food drive. This required students to create a scene on 9 by 9 paper that portrayed their genre. It was a great way to give artistic students a chance to shine, but also an enjoyable way to pitch in for people who wouldn't exactly call themselves artistic. Along with the mural and food drive, a lip-sync competition was prepared for all week. The lip-sync competition is where each grade puts together a soundtrack for their theme, choreographs a dance, and performs it for the school and judges. Another homecoming event was field night, where grades clashed in soccer, volleyball, and eSports. The final competition of the week was float building, where each grade crafted a parade float that fit their genre. The floats were showcased during the homecoming parade. 
No one really knew what the judges were looking for, so every competition was an utterly unpredictable stab in the dark. Most students had their own ideas of who should have won specific competitions, including myself. With all of the opportunities for people to get involved and have fun, everyone enjoyed themselves and left the activities feeling satisfied and spirited. Well, almost everyone.
The competitions of homecoming became intense, and now can be a sore topic to discuss for many, especially those who believe their class should have won. The final ranking for homecoming results was difficult to stomach for some: seniors in first place, freshmen in second, sophomores in third, juniors in fourth.
During the food drive, the seniors beat everyone with a total of 500+ cans. Field night also resulted in a senior sweep. Finally, their float brought home first place.
Lip sync struck a slightly different note; freshmen got first, seniors received second, sophomores were in third, and juniors came in last place. For murals, sophomores won first, freshmen second, juniors third, and seniors last.
Speaking as a sophomore, I think the juniors got the short end of the stick in both murals and lip-sync.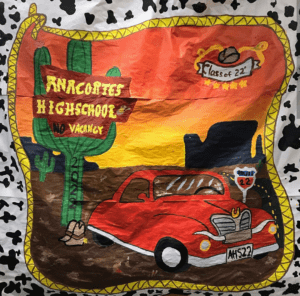 I think it was awesome that freshmen won first and second places; it definitely proves their class is involved and tried their best. They did great in murals, and I think they definitely deserved second place. Their western painting was incredible, with its cow print border and old car!
But I feel as though the juniors and sophomores should switch places. No, this does not mean I am unhappy with how the sophomore mural turned out, as I am very content and proud of it, but I do not believe it is worthy of first place. We painted hard and ended up with a mural packed with all of the action you could think of, set in a comic strip of sorts. Though it turned out great, I feel like the sophomore class could have done a little better. We incorporated more of our genre than the juniors did, but I do not believe ours was better overall.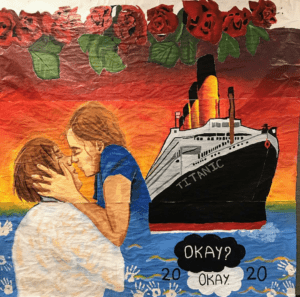 The juniors' romance mural was very pretty to look at, and the blending on the glowing sunset sky was to-die-for. Noah and Allie from The Notebook were traced from an outline with a projector, but then painted in, with harmonious shading on their faces, and it was super cool that they faded into the ocean. The painting of the Titanic looks strikingly realistic. I think they should have gotten first place because of the way it looked as a whole, but that wasn't the way murals were judged—they were judged on which mural had the most included from the genre.
In the lip sync, the freshmen won first place. They had plenty of people participating, and used up the majority of their space, with some great choreography. They included old country songs and encompassed some popular ones as well, which was an admirable combination. They began their performance with a duel between a wolf and country guy, then grew into a big dance circle, eventually flowering into the do-si-do lines and old western dancing. Ryan Horr had a glimmering moment of stardom where he belted out the song, and everyone danced behind him, which was entertaining to watch.
But as much as I loved the freshman lip-sync, I feel like the juniors did more with their genre. They had a hilarious "Umbrella" by Rihanna reenactment, with Trevor Beaner taking up the singer's mantel (and clothes). The junior class then performed a multitude of older love songs (i.e. "Lovefool" by The Cardigans) and newer ones (i.e. "Marry You" by Bruno Mars). They spelled out the letters of 'love' with people, and then enacted the Michael Buble version of "L-O-V-E" by Nat King Cole which I found extremely creative and well-executed. At the close of their show, they held signs that spelled 'Addy' and played her favorite song, a beautiful tribute to Addison Eschenbacher.
Overall, the juniors executed their lip sync well and used so much of their genre. Their choreography was fantastic; the performance left the audience in laughter and tears. Their outstandingly beautiful mural was left to hang its head in third place. When they did creatively incorporate and encompass pieces of all of the romance genre, they were consigned to fourth place; when they just as beautifully painted the picture of romance, they still fell short of first. All in all, the juniors got robbed this year at homecoming.